<! Inline frame with the vertical menu !>
<! Cell that contains main text !>
<! Table that creates margin for main text !>

On the road from June to September
VAN HALEN TOURING THE UNITED STATES



For the first time in six years, since the band toured with Gary Cherone, a tour is scheduled.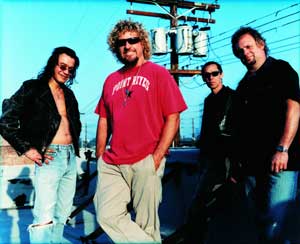 Starting in North Carolina and ending in Texas (later changes included ten new concerts in October and early November), the band is going north & south, east & west.
The last time that Van Halen toured with Sammy Hagar was in 1995-96, when they travelled all around the world in support of their 10th album, "Balance". It was a difficult tour because of several injuries the band suffered (Alex's neck injury and Edward's hip problem).
For this tour, the band join forces with
ticketmaster.com
and
tickets.com
to help promote and sell tickets for the reunion tour; strangely though, the tickets are sold at a higher price than expected, with arena tickets going as high as $90.
All concerts are scheduled to happen in the United States, except for the Toronto July 3rd concert and two more canadian concerts plus the Puerto Rico date added later during the tour. The full list of concerts is, after some changes made (Grand Rapids cancelation, various venues changes due to weather conditions, etc.):
<! Table with the concert list !>
2004.Jun.11
Greensboro, NC
Greensboro Coliseum
2004.Jun.13
Hershey, PA
Hershey Park Stadium
2004.Jun.14
Buffalo, NY
HSBC Arena
2004.Jun.16
Philadelphia, PA
Wachovia Center
2004.Jun.17
Philadelphia, PA
Wachovia Center
2004.Jun.19
Worcester, MA
Worcester Centrum
2004.Jun.20
Worcester, MA
Worcester Centrum
2004.Jun.22
East Rutherford, NJ
Continental Arena
2004.Jun.23
East Rutherford, NJ
Continental Arena
2004.Jun.25
Washington D.C.
MCI Center
2004.Jun.26
Albany, NY
Pepsi Arena
2004.Jun.28
Hartford, CT
Hartford Civic Center
2004.Jun.29
Pittsburgh, PA
Post-Gazette Pavilion
2004.Jul.01
Indianapolis, IN
Verizon Wireless Amphitheater
2004.Jul.02
Cleveland, OH
Gund Arena
2004.Jul.03
Toronto, ON (Canada)
Air Canada Center
2004.Jul.06
Louisville, KY
Freedom Hall
2004.Jul.07
Columbus, OH
Value City Arena (at Schottenstein Center)
2004.Jul.10
Detroit, MI
Joe Louis Arena
2004.Jul.11
Auburn Hills, MI
The Palace at Auburn Hills
2004.Jul.19
Chicago, IL
United Center
2004.Jul.20
Chicago, IL
United Center
2004.Jul.22
St. Paul, MN
Xcel Energy Center
2004.Jul.23
Green Bay, WI
Resch Center
2004.Jul.25
Oklahoma City, OK
Ford Center
2004.Jul.26
Kansas City, MO
Kemper Arena
2004.Jul.28
St. Louis, MO
Savvis Center
2004.Jul.29
St. Louis, MO
Savvis Center
2004.Jul.31
Omaha, NE
Qwest Center
2004.Aug.01
Denver, CO
Pepsi Center
2004.Aug.03
Salt Lake City, UT
Delta Center
2004.Aug.05
Phoenix, AZ
America West Arena
2004.Aug.06
Las Vegas, NV
Mandalay Bay Events Center
2004.Aug.07
Las Vegas, NV
Mandalay Bay Events Center
2004.Aug.10
San Jose, CA
HP Pavilion
2004.Aug.11
Sacramento, CA
ARCO Arena
2004.Aug.13
Oakland, CA
Oakland Arena
2004.Aug.14
Fresno, CA
Save Mart Arena
2004.Aug.16
Anaheim, CA
Arrowhead Pond
2004.Aug.17
San Diego, CA
Coors Amphitheater
2004.Aug.19
Los Angeles, CA
Staples Center
2004.Aug.20
Los Angeles, CA
Staples Center
2004.Sep.03
Atlantic City, NJ
Borgata
2004.Sep.05
Biloxi, MS
Mississipi Coast Coliseum
2004.Sep.09
Tampa, FL
St. Pete Times Forum
2004.Sep.11
Ft. Lauderdale, FL
Office Depot Center
2004.Sep.13
San Juan, PR (Puerto Rico)
Coliseum de San Juan
2004.Sep.16
Jacksonville, FL
Veterans Memorial Arena
2004.Sep.17
Atlanta, GA
Philips Arena
2004.Sep.20
Moline, IL
Mark of the Quad
2004.Sep.21
Champaign, IL
Assembly Hall
2004.Sep.23
Houston, TX
Toyota Center
2004.Sep.23
Little Rock, AR
Alltel Arena
2004.Sep.25
Dallas, TX
American Airlines Center
2004.Sep.28
San Antonio, TX
SBC Arena
2004.Sep.29
Lubbock, TX
United Spirit Arena
2004.Oct.01
Las Vegas, NV
Orleans Arena
2004.Oct.19
Portland, OR
Rose Garden
2004.Oct.20
Spokane, WA
Spokane Arena
2004.Oct.22
Seattle, WA
Key Arena
2004.Oct.23
Vancouver, BC (Canada)
Pacific Coliseum
2004.Oct.25
Edmonton, AB (Canada)
Rexall Place
2004.Oct.30
Winnipeg, MB
Winnipeg Arena
2004.Oct.31
Fargo, ND
FargoDome
2004.Nov.03
Milwalkee, WI
Bradley Center
2004.Nov.10
Hamilton, ON (Canada)
Copps Coliseum
The webmaster hopes to find you in San Jose, Sacramento or Oakland !...

Happy Trails !!!!!

<! End of cell that contains main text !>