The Peavey Wolfgang Standard guitar has a solid basswood construction (3 pieces of basswood). This model can always be identified by having two knobs (volume and tone) and an arched top.

The guitar has a binding for looks, but there is no top. The available body colours are gloss black & ivory.
In some cases, the black ones will have a top where they painted over a flame or quilt top that didn't come out right. If you look real close at the finish you can see whether or not it is two piece or 3 piece construction. If it is two piece it has a top. On a black or ivory standard, assume it has no top and thus it won't have the little extra brightness in the tone that a maple top gives you.
The very first guitars were made late in 1996 (Edward still had short hair when he had his first prototypes). The Standard and Standard Deluxe were the only models until 1998. A stop-tail bridge version first was offered in late 1997.
Most people don't realize that there are two Wolfgang Standard models. The gloss finish models and the transparent finish ones (quilt and flame tops, solid gold and seafoam).
Peavey made less than 2000 units in four colors before switching to flame tops. Since that time they have only come in a flame maple top. The solid color gold tops also have a top as does the solid "seafoam green" color.
We'll describe the other models later (see below), but for now, let's check some real models and pictures... lots of pictures (don't forget to scroll down to check the Custom Shop section):
<! Table with the list !>
Peavey Wolfgang Standard, Gloss Black
[ +8 ]
Peavey Wolfgang Standard, Gloss Ivory White
[ +8 ]
Peavey Wolfgang Standard Stoptail, Gloss Ivory White
[ +6 ]
Peavey Wolfgang Standard Deluxe, Quilt Amber (1st year)
91001421
[ +12 ]
Peavey Wolfgang Standard Deluxe, Flame Purple
91017991
[ +5 ]
Peavey Wolfgang Standard/Custom, Gloss Black (with rosewood neck)
91027180
[ +6 ]
Peavey Wolfgang Standard/Custom, Gloss Black (John Douglas custom)
[ +5 ]
They painted a lot of guitars gold or Seafoam when the top was rejected for one reason or another. They also used a lot of 10-tops on gold and seafoam. This would be fine tonally speaking but just would not be good for anything but a solid color cosmetically. The Standard Deluxe has an arched top like a Les Paul. It is a 5/8" thick top (before carving). This Wolfgang Deluxe has all the best stuff for hardware and materials. It will have both a volume and tone knob like the Standard as it is a Standard with a maple top.
The Wolfgang Special is a solid basswood (no top) guitar. It came in solid colors and sunburst. The necks are not birdseye maple (but hardrock maple) and without the top you don't have the same tonal qualities (lacks some brightness), although the tone is great and I could see how someone would argue they like it better.
They can be identified by having one knob and a flat top. They also would not have a binding, since there is no top. The tuners are cheaper as well (metal rather than the pearloid). Pick-ups are the same on all Wolfgangs up until 2004. The Special models was first offered in 1998.
Similarly to the Standard model series, you can also find a Wolfgang Special Deluxe (flame top). If money isn't the main concern and you prefer the flat top look and/or feel (like the Music Man EVH) then this is your guitar. The only drawback is it doesn't have the birdseye neck either or the better tuners you get on the Standard model.
This guitar can be identified by a flame maple top and only one knob like all Specials. The Special Deluxe has a 1/4" flat maple top where the Standard Deluxe starts with a 5/8" (before carving) maple arched top.
<! Table with the list !>
Peavey Wolfgang Special, Gloss Black
91014095
[ +8 ]
Peavey Wolfgang EXP (Korean), Maroon Quilt
02070991
[ +9 ]
For the Peavey Wolfgang Special EXP (korean made), the quality on many is bad (not even average). It is the only Wolfgang made outside the USA. It can be identified by a quilt top (Maroon, Blue, Amber or Sunburst) and only one knob (volume but no tone).
Actually, you can't call it a top as it is a .020 thin slice of veneer that is glued on. Thus, this guitar will not have the tonal qualities of one with a maple top. The tops look nice on these, but that is where it ends. Cheaper hardware, neck, etc. These were first offered in 2003.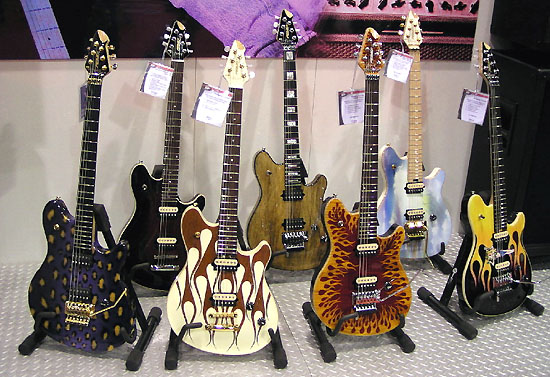 Considering the Custom Shop guitars, there is no difference in price between a Floyd Rose trem model and a stop tail bridge. Only about 450 real Custom Shop guitars were ever produced and nearly half were made to order, while the rest were produced for the EVH Vault and the NAMM shows.
The Custom Shop opened in January of 2002 so it ran a full three years. About half of the guitars were produced in Leakesville prior to it closing in April of 2003.
You could get any of the standard american models above in a customized configuration. The price was based on what was ordered. Most are one-of-a-kind guitars.
The materials used on the Custom Shop guitars were superior. The people building them were their best craftsman. The difference between the production models and the Custom Shop models is significant in the Special models because you usually get a top of the line birdseye neck and the better tuners, which you wouldn't otherwise.
In Ed's own words: "
For as long as I've been playing guitar, I've always been searching for a certain feel and tone...I've experimented by tearing apart and reassembling hundreds of guitars in different ways searching for these qualities. Although I've ruined a lot of great guitars by having done this, I have learned what it takes to make a truly great guitar. The Wolfgang, after years of trial and error, (for me) is that guitar. Our collective efforts in designing the Wolfgang guitar have resulted in a versatile, quality-crafted guitar that feels great, sounds great and is truly inspiring to play. I've already put mine to the test in the studio and on tour and now it's your turn.
"
After Ed's words, feast yourselves with some Custom Shop guitars:
<! Table with the list !>
Peavey Wolfgang Standard/Custom, Gloss Black (with rosewood neck)
[ +6 ]
Peavey Wolfgang Custom Stoptail, Gloss Black (with coil-tap)
1150xxxx
[ +6 ]
Peavey Wolfgang Custom, Safety Orange
[ +7 ]
Peavey Wolfgang Custom Deluxe, Blue Quilt
11525810
[ +5 ]
Peavey Wolfgang Custom Deluxe, koa top, mahogany body, rosewood neck
[ +7 ]
Peavey Wolfgang Custom Deluxe, mahogany
91028920
[ +15 ]
Peavey Wolfgang Custom Deluxe, korina top
[ +10 ]
Peavey Wolfgang Custom Deluxe, koa top, mahogany body, unfinished top
[ +5 ]
Peavey Wolfgang Custom Deluxe, flames on mahogany
[ +7 ]
Peavey Wolfgang Custom Deluxe, Las Vegas (evh blocks)
91028769
[ +5 ]
Peavey Wolfgang Custom Deluxe, Las Vegas (dice inlays)
11649711
[ +18 ]
Peavey Wolfgang Custom Deluxe, fire graphic top
51071215
[ +5 ]
Peavey Wolfgang Custom (vault models)
n.a.
[ +17 ]
Peavey Wolfgang Custom (bodies by John Douglas)
n.a.
[ +12 ]